To build the strong culture of acceptance and community that is essential to all we do at The Attic, we maintain many rich traditions and a lively schedule of community events.
Among these traditions and events are our weekly all-Attic meetings, at which teachers and children of all ages gather in one room to share announcements, problem-solve, and celebrate together.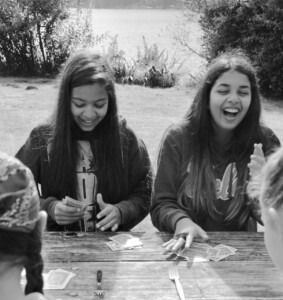 Annually, we also hold a number of community events that both enrich our relationships and give our learners opportunities to lead and to showcase their work. We begin and end each year with community picnics; we follow the kids' lead on holiday celebrations (Halloween and Valentine's Day being traditional favorites); and our teens hold a spring overnight, at which they camp out at The Attic.
Academic events include Writer's Night, Interest Project Night, Math Night, and our spring Science Event. For each of these, kids work to create independent but teacher-supported projects to share with the community. In holding these academic events, we give learners authentic opportunities to experience the creative process, to take ownership of their work, and to engage in intellectual and social conversations with a multi-age audience of peers and adults.